Can't see this email correctly? Click here to view it online.
Resources for Your
Collegiate Group Piano Classes
Request your complimentary review copies
For non-keyboard music majors
Alfred's Group Piano for Adults, Books 1 and 2
About the course:
Designed for collegiate non-keyboard music majors with little or no keyboard experience, this easy-to-use text contains 26 units, each intended to be covered in one week, thus fulfilling two semesters or three quarters of study. Theory, technique, sight-reading, repertoire, harmonization, improvisation, and ensemble activities are taught thoroughly and consistently throughout the text.
Supplemental
These supplemental books provide enjoyable resources for reinforcement of important musical concepts.
Popular Music Books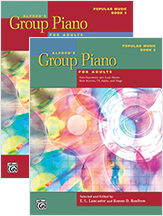 Includes popular pieces to perform and lead sheets to reinforce harmonization activities.
NEW! Ensemble Books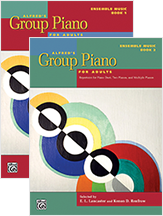 Contains repertoire for piano duets (1p, 4h), piano duos (2p, 4h), and multiple pianos.
For non-music majors
Piano 101, Books 1 and 2
About the course:
This comprehensive approach to functional musicianship at the keyboard includes varied repertoire, theory, technique, sight-reading, harmonization from lead sheets, ear training, and ensembles. Each book contains 15 units with a variety of repertoire, exercises, unit review worksheets, and an assignment page.
Popular music books
These collections of popular pieces will help motivate students in continuing their studies. Selections from movies, TV, radio, and stage reinforce concepts from each unit of the books.
Pedagogy Textbooks
(not available for review copy)
Professional Piano Teaching, Vols. 1 and 2
The two volumes of Professional Piano Teaching offer a practical guide to the art of piano teaching. They include discussions on how to teach, not just what to teach; numerous musical examples; chapter summaries; and suggested projects for new and experienced teachers.
Piano Masterworks for Teaching and Performance
These two volumes are reference libraries of standard repertoire for pianists and piano teachers. The repertoire in these volumes supports the suggested projects in Jeanine Jacobson's Professional Piano Teaching and can be used in conjunction with the pedagogy texts for classes.
Alfred Music PO Box 10003, Van Nuys, CA 91410
Join the Alfred Music Mailing List
Contact Us
© 2019 Alfred Music
ABOUT CMS PROFESSIONAL NOTICES

CMS Professional Notices are sent to email contacts provided by your company, organization, or institution for inclusion in various databases and publications maintained by The College Music Society. If you would prefer not to receive these notices, unsubscribe.

This Professional Notice is provided as a service by The College Music Society for its members and industry clients. It does not represent any official stance of or endorsement by The College Music Society, its regional chapters, nor its companion 501c.3 organization The CMS Fund.
The College Music Society · 312 East Pine Street · Missoula, MT 59802 · www.music.org